Home>
LG-6800 Injection Pump
LG-6800 Injection Pump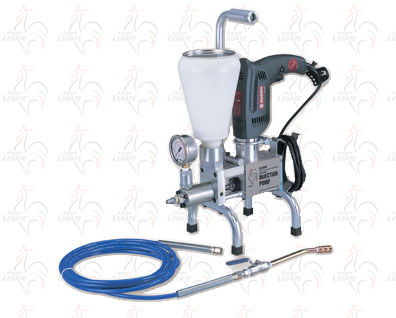 The LG-6800 is a professional Injection Pump in the field of filling resin in concrete structures. It generates high nil-air pressure. Its lightweight characteristics facilitate carrying.
It is easy to handle and virtually maintenance free.
The LG–6800 injection pump has a coupling flanged to the reduction gearing in order to receive any commercial electronic drill. The chuck must be detachable and the key face behind it must be 17 mm.
An even working pressure and uniform delivery is ensured by using an electronic drill with its chuck detached and body coupled directly to the injection pump.
The LG–6800 can generate a working pressure of 3,500 psi in only 3 seconds.
The injection time is three times quicker than other types. The LG–6800 weighs only 5 kg, making carrying and mobilization comfortable and easy.
Easy maintenance is another advantage of the LG–6800. The LG–6800 can be easily maintained or serviced without requiring special training except for a few rare special conditions. Its stable and maintained pressure fills narrow cracks efficiently and completely.
The price of the LG–6800 is very competitive, and containing only a small number of inexpensive replaceable parts in the main body of the LG–6800 allows both the investment and maintenance costs to remain low.