Injection Packer : Introdution
Injection System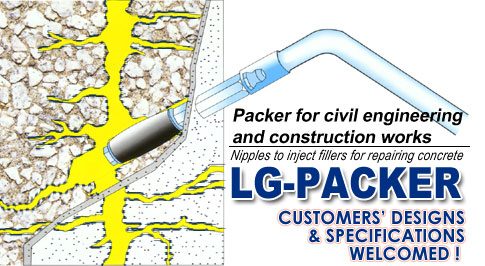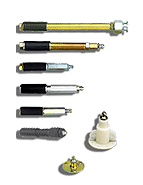 Injection Packer
Apply to diameter 8mm-19mm drilled holds, lenght 55-1,000mm
We also produce many varieties of injection packers such as Aluminium type, Steel type, Button Head Nipple type, One Step Format type, SW type, Adhesion Packers, Progressive Screw Packer, Special Packer for One Day sites.
Customers' designs & specifications are welcomed!
more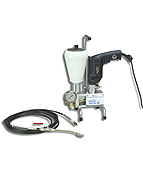 Injection Pump
The LG-6800 is an Electrical Injection Pump, suitable for the application of injection materials such as Polyurethane, Epoxy Resins, etc.
more
INTRODUCTION of INJECTION PACKERS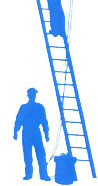 With 25 years of experience in manufacturing grease fittings, we place an extremely grand emphasis on the quality of our products. Grease fittings are Packer's heart and require high product quality, so our grease fittings have a high elasticity spring that is pressure batch tested up to 8000 psi to prevent leakage during high pressure injection work. This feature makes us one of the most important manufacturers in the world in this field.
We have been highly praised for the high technology we use to produce grease fittings with 42 mm high one step format packer.
The Rubber Tube with 1-ply Gauze Inclusion is able to take high pressures and is more secure than normal injection rubbers. Our particular production formula prevents shape change and liquid leakage and allows linear rubber expansion when pressure builds up during construction.
Our thread tubes are made of seamless steel pipe, a material that is harder than aluminum or copper and iron, so they are able to resist high torsions. Their resistance to leakage and breakage is also high as the tube material is seamless without connections.
The Long Aluminum Coupling Type is made with a particular grooved notch to enable easy removal after construction. This feature saves time, labor and equipment.
Having equipped ourselves with advanced technology, years of experience and good track records, we welcome orders of any specification, size and material.